Six Month Smiles
Six Month Smiles short term orthodontic treatment is a modern twist on tried-and-true orthodontics. There is little debate within the orthodontic community that braces are the most widely used and most effective method to give patients straight, healthy teeth and a beautiful smile. Six Month Smiles has taken the best aspects of braces and modified the treatment and the materials to give adults a common-sense, cosmetic solution that fits your lifestyle. Here is what makes Six Month Smiles so innovative…
Average treatment times of only six months
Six Month Smiles lucid-lok clear bracket and tooth coloured wires are barely visible.
Use of braces has shown to provide the most conservative and predictable final result
Six Month Smiles patient tray kits ensure that appointments are fast and comfortable
Low forces and short overall orthodontic treatment times increase comfort, safety and hygiene
Six Month Smiles is typically less expensive that traditional braces, aligner therapy, or veneers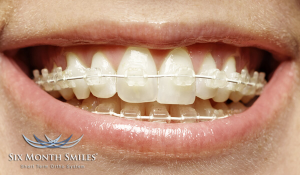 FAQs
Straight teeth in 6 months, how is this possible?
Six Month Smiles® clear braces are safe, comfortable, and provide quick results. Using proven techniques and materials, the braces have been specifically designed for adults with crooked, spaced, or misaligned teeth.
Are retainers required?
Yes, as with all orthodontic treatment, a retainer is necessary to maintain the new, straight position of your teeth. There are a variety of retainer options you can choose from depending on your personal preference and situation.
Is there a catch?
There's no catch! If you are an adult patient with crooked, spaced, or misaligned teeth, then this could be a fantastic option for you! Ask your dentist today if you are a candidate for Six Month Smiles®!
Does everyone really finish in 6 months?
6 months is the average treatment time, Most patients finish right around 6 months, but treatment times may range from 4-9 months.