Crowns, Bridges and Veneers
Veneers are custom-made, thin ceramic shells that are placed on the front of teeth using very strong cement. They can be used by your dentist to correct and treat a variety of dental conditions, including discoloured teeth (severe stains; tetracycline), crooked teeth, chips, cracks, and wear. Because they are made specifically for each individual patient, veneers look and feel natural, giving the patients who receive them a whiter, straighter, more balanced and pleasing looking smile.

In some circumstances veneers can be placed with no injections, no drilling and no pain. Your dentist will simply take impressions of your teeth, and the lab will fabricate razor thin veneers to be placed on top of your natural teeth. Your dentist will determine whether minimal or no prep veneers are right for you. If you are a candidate your smile makeover could be completed in as little as two appointments.
A crown is an artificial covering that fits over the remaining part of a prepared tooth, making it strong and giving it the shape of a natural tooth. A crown is sometimes known as a 'cap'.
Crowns are an ideal way to repair teeth that have been broken, or have been weakened by decay or a very large filling. A crown could be used for a number of other reasons, for example:
you may have a discoloured filling and would like to improve the appearance of the tooth
you may have had a root filling and need a crown to protect what is left of the tooth
it may help to hold a bridge or denture firmly in place.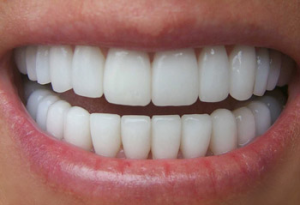 Crowns are available on the NHS, with a limited choice, and privately.
If you choose to have a crown provided privately you have a wealth of choices available to you. Depending on your choice crowns can look super realistic and impossible to identify from natural teeth or be super strong and able to withstand the hardest bite.
Providing crowns only takes a couple of appointments and is a relatively painless procedure with very high patient satisfaction. Your dentist will be able to discuss the different options available to you and answer any questions you may have.